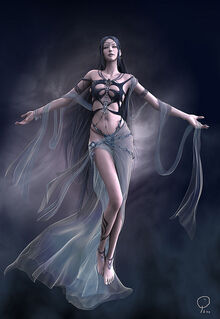 Nyx (Greek: Νύξ, "Night")[1] – Roman (in Latin): Nox – is the Greek goddess (or personification) of the night. A shadowy figure, Nyx stood at or near the beginning of creation, and was the mother of other personified deities such as Hypnos (Sleep) and Thanatos(Death). Her appearances are sparse in surviving mythology, but reveal her as a figure of such exceptional power and beauty, that she is feared by Zeus himself. She is found in the shadows of the world and only ever seen in glimpses.
NYX was the goddess of the night, one of the ancient Protogenoi (first-born elemental gods). In the cosmogony of Hesiod she was born of Air (Khaos), and breeding with Darkness (Erebos) produced Light (Aither) and Day (Hemera), first components of the primeval universe. Alone, she spawned a brood of dark spirits, including the three Fates, Sleep, Death, Strife and Pain.
Nyx was a primeval goddess usually represented as simply the substance of night: a veil of dark veil of mist drawn forth from the underworld which blotted out the light of Aither (shining upper atmosphere). Her opposite number was Hemera (Day), who scattered the mists of night, or Eos, the goddess of the dawn.
In ancient art Nyx was portrayed as a either a winged goddess or charioteer, sometimes crowned with an aureole of dark mist.
Known Children
Hypnos
Thanatos
Demigod children
Community content is available under
CC-BY-SA
unless otherwise noted.